Fort Lauderdale Airport Rental Car Return
To return a rental car to Fort Lauderdale Airport (FLL), the process will generally be similar regardless of the rental car provider you are using. However, there may be some specific details that vary by company. Here is an overview of the general process for returning a rental car to FLL: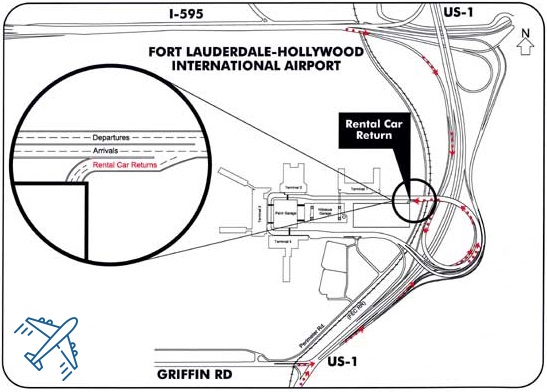 The Rental Car Center (RCC) is open 24 hours a day, seven days a week and offers 12 rental car companies in one building next to Terminal 1.

To return a rental car to the Rental Car Center, follow the signs for the Rental Car Return area

and drive to the designated area for your rental car company. The RRC is the first building on the left when entering the airport.
There may be multiple rental car companies located in the same area, so make sure you park in the correct spot.
Once you have parked your rental car, gather all your belongings and any items left in the vehicle. Make sure you don't leave any personal items behind.
Follow any instructions given by the rental car company for completing the return process. You may be asked to show your rental agreement.
Once you have completed the return process, you can proceed to your terminal to catch your flight. Terminal 1 is accessible via the pedestrian bridge on the 2nd floor. Shuttle buses will take you from the Rental Car Center to Terminals 2, 3 and 4 for your departure flight. The shuttle service is available every 10 minutes, 24 hours a day, seven days a week.
If you need to fill up the gas tank before returning your rental car, be sure to check out our Nearby Gas Stations page.
It's important to allow plenty of time to return your rental car and check in for your flight, as the airport can be busy and there may be long lines at the rental car counter.
Fort Lauderdale Airport Rental Car Center address:
3900 S. Perimeter Road
Dania Beach, FL 33312.